Pupil Premium
Details

Published: Tuesday, 20 December 2022 09:15
To view our Pupil Premium Strategy statement click here
Our Pupil Premium impact statement for 2020 / 2021 can be found here
Disadvantaged students at St Thomas More High School
The Pupil Premium is a government funding initiative to provide additional money to schools in order to raise the attainment of children from disadvantaged backgrounds. You can view our Pupil Premium Statement on the below PDF, including how Pupil Premium funding assists in minimising the achievement gap between disadvantaged students and their peers as well as how to apply for financial support.
Our Pupil Premium funding is used to pay for a huge range of resources and activities both within and beyond school with the aim of fully supporting those students to achieve their full potential.
If your child currently receives Free School Meals or has received Free School Meals in the past 6 years, and you require financial support, we urge you to contact us for advice. Please contact our Finance Team,  This email address is being protected from spambots. You need JavaScript enabled to view it., or alternatively contact Mrs Lindsay This email address is being protected from spambots. You need JavaScript enabled to view it. who is the Pupil Progress Mentor for Pupil Premium students.
Current Profile of Pupil Premium Students at St Thomas More High School 2022-2023
| | | | | | | |
| --- | --- | --- | --- | --- | --- | --- |
|   | Year 7 | Year 8 | Year 9 | Year 10 | Year 11 | TOTAL |
| Percentage | 16.3% | 18.3% | 17.2% | 19.4% | 13.5% | 16.9% |
You are eligible for Pupil Premium if you:
are from a service personnel family
are looked after by the local authority/in foster care for one day or more
have ceased to be looked after by a local authority in England and Wales because of adoption, a special guardianship order, a child arrangement order or a residence order
have had free school meals at any point in the past 6 years
are eligible for free school meals now.
If you think you may be entitled to apply for free school meals then please make an application through your local council Apply for free school meals - GOV.UK (www.gov.uk) who will let us know if you qualify.
The Pupil Premium Strategy was introduced to help schools to help raise the attainment of Disadvantaged students of all abilities and close the gap between them and their peers.
In the 2022 to 2023 financial year, schools receive the following funding:
£985 for each student registered as eligible for free school meals (FSM) at any point in the last 6 years
£2410 for each student identified in the school census as having left local authority care as a result of:

Adoption
A special guardianship order
A child arrangements order (previously known as a residency order)

£2410 for each student who has been in local authority care for one day or more
£320 for each service child.
For the financial year 2022 to 2023, the Pupil Premium allocated to St Thomas More High School is expected to be £117,215.00.
Please note that school are free to spend this money in any way that they feel will improve student progress within school.  It is not spent on each individual.
Schools have the flexibility to spend their funding in the best way for their cohort and circumstances.  To support school to make the best use of this funding, the Education Endowment Foundation (EEF) published Support Guide for Schools with evidence based approaches to support education recovery.  St Thomas More has used this document to help direct additional funding in the most effective way.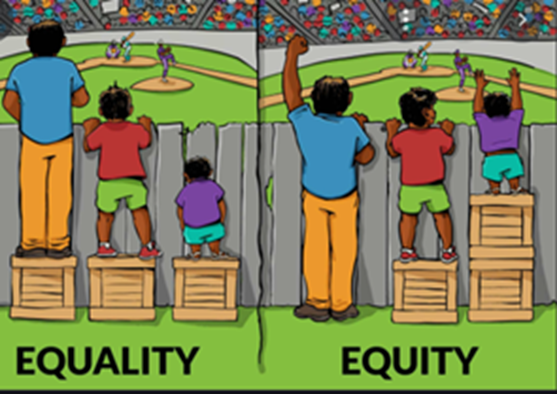 Equality means each individual or group of people is given the same resources or opportunities. Equity recognizes that each person has different circumstances and allocates the exact resources and opportunities needed to reach an equal outcome.